VENDOR INFO, AGREEMENT AND PRICING
Why the 2022 Event is one not to be missed!
Reach thousands of Corvette and Camaro enthusiasts over two days
Company Name, Web site and contact info listed on Bloomington Gold Web site
Link to Vendor Listing in emails sent to over 15,000 Corvette and Camaro enthusiasts
Company listed in both the electronic and printed 2022 Show Program
Your competitors will be there!
Why Bloomington Gold?
It's our 50th Event back in Bloomington which will be a huge draw to both vendors, car enthusiasts and the general public
Well known established event that draws attendees from 48 states
People are hungry to get out and BUY
A unique indoor outdoor venue that isn't affected by weather conditions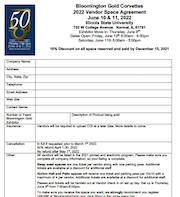 Please read the 2022 Vendor Contract as it will answer a lot of your questions!
CLICK HERE